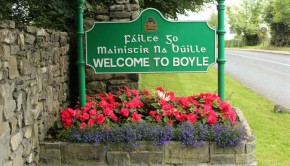 'THE ADDAMS FAMILY' TICKETS
With just a over a week until opening night, Boyle Musical Society is delighted to announce that tickets for its eagerly anticipated new show, 'The Addams Family', are on sale. 'The Addams Family' will be staged in St. Joseph's Hall, Boyle from Wednesday, November 21st to Saturday November 24th and the performances will be at 8pm nightly. There will be a special Matinée performance on Saturday, November. 24th at 2:30pm. Tickets can be purchased from our new ticket office which is located at ÚnabhánTourism and Craft Shop in the grounds of King House, from 10am to 4pm every day excluding Sundays. Please note that tickets will be available for all performances but there is no pre-booking of allocated seats for the Wednesday and Thursday. performances. Tickets can also be booked by telephone on 071 9663033. This line will be open during booking office hours only, every day excluding Sundays, until November 24th. We accept credit card bookings. A detailed seating plan is now available on www.boylemusicalsociety.com. Click on 'Shows' for a look at the seating plan.
FREE "EXPLORING EXCEL" WORKSHOP
This workshop in organised by Role Skillnet and will take place at Boyle Enterprise Centre on November 15th from 9.30/11.30. (Registration 9.00/9.30) The workshop is suitable for participants interested in exploring Excel's capabilities to become more efficient in using and creating spreadsheets. For more information, please email [email protected] or call 086 203 9182. Role Skillnet provide funding and support for training for private businesses
BOOK LAUNCH
Launch of Barry's book by Dr Jason King who is the Academic Coordinator of the Irish Heritage Trust and National Famine Museum at Strokestown Park. The book is about the Workhouse in Boyle and emigration in famine times. It describes the building of and living conditions in the Workhouse. It tells the distressing tale of 52 orphan girls from the area, leaving on a Bianconi long cart and onwards on a sea voyage lasting 100 days to Australia. This was during the years 1848 to 1850, when 4114 orphan girls from Workhouses all over Ireland many as young as 14 years old were sent under the Earl Grey Irish orphans scheme to Sydney and beyond. Their passage was paid by the Australian Government as more females were required to offset the gender imbalance in the colony (8m:1F). Through correspondence with researchers (Irish Famine Memorial) based at the Hyde Park Barracks Museum, in Sydney, we have traced the early history of some local girls. Some of it makes for sad reading. They were so vulnerable. The Book also gives details on the Rockingham and Woodbrook evictions from their estates in the Barony of Boyle and their resettlement on Sheegora, and Ballymore. Poignant images of a famine house with its bed outshoot or 'pristy' bed are included. Emigration to America, Canada and Australia including the names of the ships and some passenger lists are also covered. Many of these passages were financially assisted by the Boyle Union Board of Guardians. Most of the information was gathered by reading the minutes of what remains of the Boyle Board of Guardians books and from local newspapers of the period. Taking place in King House, Boyle on Friday 16th November at 8pm.
CURLEW WALKERS CLUB
The next meeting of the Curlew Walkers will take place on Sunday 25th November, meeting on the Crescent, Boyle at 10am with your leader being Tom Browne 087 2379 632  This will be slight climb grade B . Please confirm times with leader or website prior to each walk www.walkingboyle.com
NEW BOOT CAMP AT THE FITT FACTORY
With Christmas just around the corner, now is the time to sign up for the latest Boot Camp at the Fitt Factory.  This two week Camp is the only tonic you will need to get in shape for Christmas! 6 classes, 2 weeks, with great results, commencing on Monday 26th November at 6.45pm on Monday, Wednesday and Friday. There are limited places on this Boot Camp so best to reserve a space on 0860878676. And new this week at the Fitt Factory is Men's Pilates, commencing this Thursday evening. Places are filling up so please call or message Siobhan on 086 087 8676 to book your place.
TAWNYTASKIN COMMUNITY CENTRE MASS
The Annual Community Mass will take place on Friday 30th November at 8pm. An evening to catch up and chat neighbours and old friends. All very welcome to come and join us for a visit and cuppa.
BOYLE CHRISTMAS LIGHTS CASH DRAW – 1ST PRIZE €1000
Over the coming days Raffle Cards will be dropped into all businesses in Boyle and we are appealing to everyone to sell the lines over the coming weeks for the Christmas Lights Cash Draw. We are fast approaching Christmas and once again we are making every effort to ensure Boyle Town is looking its brightest and best. Our annual Christmas Draw will take place this year during Christmas week with a top prize of €1,000!  The funds from the draw go directly to the running costs and insurance of the Lights for the Festive Season. We appeal to every business to sell the two cards delivered to them as your contribution towards lighting Boyle. Over the past few years the willingness of so many people to support the Draw has been remarkable and we very much appreciate any contribution, however small. We are also very grateful to the team of volunteers who are responsible for the erection & dismantling of the lights (and who work in sometimes very inclement weather) – their work has already started! Additional cards can be collected from Boyle Enterprise Centre.  Completed cards / donations will be collected from you on 20th/21st December. Boyle is our town and we ask you to give our Boyle Christmas Lights Draw a priority space on your counter or desk. We thank you for your continued support and look forward to a busy and bright Christmas in Boyle.
COURTYARD MARKET
The Market takes place every Saturday in the Grounds of King House, Boyle from 10am until 2pm. If you would like to enjoy the best locally grown fresh and organic produce, then a trip to the Courtyard Market should be on your agenda. There is a wide range of seasonal produce,
CV & OFFICE SERVICES
Are you looking for a new job? Are you having difficulty putting together your CV? Would you like some help? Then why not call into the Úna Bhán office in the grounds of King House, Boyle, where we will be delighted to give you any help, advice or information we can. A good CV could make all the difference in getting your job application through to the interview stage. We have a template and sheet of helpful tips to guide you through the process. We will also type your CV if you cannot do this yourself. Or you may just want to call in for a chat about your CV. All information will be treated in the strictest of confidence. For more details, contact Úna Bhán Tourism on 071 9663033. We also offer office services such as Photo Copying, Scanning, Laminating, Typing, Faxing, Binding and Printing.
BOYLE GOLF CLUB
The Drumderrig Cup was played over the October Bank Holiday Weekend in perfect conditions both underfoot and overhead. The winning team this year comprised of Lorcan Egan, Cillian Doyle, Jonathan Egan and Paddy McLoughlin with 103 points. In second place were Brendan Gaffney, Sean Heslin, Vincent Egan and John Cryan with 98 points, and third place went to Terry Bright, Martin Wynne, David Wynne and Owen Garvin with 96 points. Thanks again to Paula Cull for her generous sponsorship of this competition. The King Harmon matchplay is well underway with the and the field has been narrowed to the four semi-finalists. Mark Whelan continued a recent run of form with a good win over a strong opponent in his quarter-final and will be playing his semi-final against Brendan Gaffney. The other semi-final will be played between Terry Canning and Liam Mullaney. The two semi-finals are to be played this week with the final the following week.The winter 9 hole  competition continues this week and can be played any day from Monday to Saturday. Owen Garvin was the winner in the week before Halloween with 21 points. The competition on Sunday the 4th of November was an 18 hole Stableford sponsored by Ivan Keaney Photography, Bridge Street, Carrick on Shannon. Results to follow next week. Thanks again to Ivan Keaney for his sponsorship.The mens' WhatsApp group has been temporarily taken down. It will be relaunched again in the coming weeks when a few adjustments have been made. The mens club AGM has already taken place, with the overall club AGM taking place on Sunday the 2nd of December at 5 pm.
JUNIOR CERT MATHS GRINDS
Junior Cert maths grinds available in Boyle area. Contact Michaela 083 872 1327
DEMENTIA AWARENESS
The Dementia Alliance Group is currently in the process of establishing a Community Conversation Cafe in Boyle. This will be a meeting place for those with early dementia and their careers. For more information on tonight's dementia awareness evening, please contact Bernie Cotter on 076 1076380