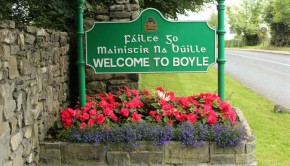 DEAR SANTA
Have you got a little someone who would like to receive a personal letter from the man in red himself this December? Una Bhan Craft Shop has established a direct line to Santa Claus and has arranged for him to reply to children's letters. Your child can write their letter to Santa and post it in the 'Special Santa Box' in the Una Bhan Craft Shop, €5 per child (to cover admin charges – no stamp required!), then leave the rest to us. Make sure your child includes their full name, address, age and special requests for Christmas and include a mention of any brothers, sisters or special friends so the reply can be really personal. We will make sure that Santa gets to read each letter and write a personal letter back, which will be posted directly to the child. Santa's Letter Service will run up until Saturday 18th December.
SANTA CLAUS IS COMING TO TOWN
Boyle town is the place to be on Saturday 1st December at 4pm where Santa will perform his first duties of the season and Light up Boyle for Christmas. Activities on the crescent for the turning on of the lights will include elves from the Boyle Scouts providing hot chocolate and Nibbles, accompanied by Transition Year Elves from Abbey Community College who will be doing face painting; Santa will light up Boyle from the town clock and will be ably assisted by his helpers-the prize winners from the Schools competition. –the place to be-The Crescent Boyle 4pm Saturday 1st December.
CURLEW WALKERS CLUB
The next meeting of the Curlew Walkers will take place on Sunday 25th November, meeting on the Crescent, Boyle at 10am with your leader being Tom Browne 087 2379 632 This will be slight climb grade B . Please confirm times with leader or website prior to each walk www.walkingboyle.com
I HEAR YOU AND REJOICE'
Aughanagh Parish Council are proud to welcome back Mikel Murfi to perform his fantastic play 'I Hear You and Rejoice' on Sunday 25th November at 7.30 in The Mayfly, Ballinafad.

BIG BOYS DON'T CRY
Transition Year student from Abbey Community College Boyle are organising a play performed by the fifth years of their school titled Big Boys Don't Cry. It is a very powerful story about child abuse and neglect. The play will take place on Monday 26th November in Abbey Community College at 7pm. We would not recommend that children attend due to its serious and mature contents.
NEW BOOT CAMP AT THE FITT FACTORY
With Christmas just around the corner, now is the time to sign up for the latest Boot Camp at the Fitt Factory. This two-week Camp is the only tonic you will need to get in shape for Christmas! 6 classes, 2 weeks, with great results, commencing on Monday 26th November
at 6.45pm on Monday, Wednesday and Friday. There are limited places on this Boot Camp so best to reserve a space on 0860878676. And new this week at the Fitt Factory is Men's Pilates, commencing this Thursday evening. Places are filling up so please call or message Siobhan on 086 087 8676 to book your place.
BOYLE I.C.A.
Tuesday 27th November: Boyle I.C.A. will have their Christmas Night Out in the Moylurg Inn from 8pm. All are welcome to come and join us and bring a friend or two the more the merrier.
BOYLE COMMUNITY GAMES AGM
Boyle Community Games AGM will be held on Wednesday 28th November at 8pm in the GAA clubhouse. Parents and coaches are invited to attend to discuss the program of events for the coming year.
TAWNYTASKIN COMMUNITY CENTRE MASS
The Annual Community Mass will take place on Friday 30th November at 8pm. An evening to catch up and chat neighbours and old friends. All very welcome to come and join us for a visit and cuppa.

DEMENTIA AWARENESS
The Dementia Alliance Group is currently in the process of establishing a Community Conversation Cafe in Boyle. This will be a meeting place for those with early dementia and their careers.
JUNIOR CERT MATHS GRINDS
Junior Cert maths grinds available in Boyle area. Contact Michaela 083 872 1327
BOYLE GOLF CLUB
The AGM of the ladies section of the club was held on Sunday the 18th of November. Regina McLoughlin is the incoming Lady Captain for 2019 and her committee will comprise of : Hon Secretary – Moira Egan, Handicap Secretary – Susan O'Mahony , Competition Secretary – Mary O'Hara, Treasurer – Liz Dwyer, with the following serving as ordinary committee members : Fiona Keenan, Therese O'Daly, Tish Perry and Marie Hanmore-Cawley. Geraldine McDermottroe will be Lady President for 2019. The overall club AGM takes place on the 2nd of December at 5 pm in the clubhouse.
COURTYARD MARKET
The Market takes place every Saturday in the Grounds of King House, Boyle from 10am until 2pm. If you would like to enjoy the best locally grown fresh and organic produce, then a trip to the Courtyard Market should be on your agenda. There is a wide range of seasonal produce,
CV & OFFICE SERVICES
Are you looking for a new job? Are you having difficulty putting together your CV? Would you like some help? Then why not call into the Úna Bhán office in the grounds of King House, Boyle, where we will be delighted to give you any help, advice or information we can. A good CV could make all the difference in getting your job application through to the interview stage. We have a template and sheet of helpful tips to guide you through the process. We will also type your CV if you cannot do this yourself. Or you may just want to call in for a chat about your CV. All information will be treated in the strictest of confidence. For more details, contact Úna Bhán Tourism on 071 9663033. We also offer office services such as Photo Copying, Scanning, Laminating, Typing, Faxing, Binding and Printing.