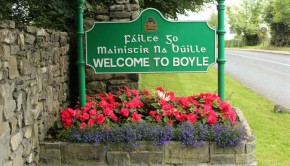 PERMISSION GRANTED FOR NEW ASD UNIT
The Board of Management of Abbey Community College has been granted conditional planning permission for a development at the school. The application for  a single storey extension comprised of: A new ASD Unit: 2 no. classrooms, daily living skills room, multi-sensory room, store, toilets and shower facilities, link corridor with connection back to existing school and all associated site works at the college. The application was lodged with the local authority on November 7th 2018. A decision was granted for the development on the 20th of December 2018 and contained 8 conditions.
BOYLE FOOD PARTNERSHIP
If you and/or your family need food, we distribute food through Community FEAD and Food Cloud programmes at Boyle Family Resource. All you have to do is text FOOD and your first name to 086 049 6467 to receive details. Distribution times are as follows: Monday 2.30pm until 4pm, Wednesday 2.30pm until 3.30pm or Friday 3pm until 4.30pm.
ALL SHOOK UP
Tickets are now on sale for Abbey Community College's production of 'All Shook Up'. The musical will take place in St. Joseph's Hall on February 13th, 14th and 15th at 8pm. The Booking Office is open in the school Monday to Thursday 1.15pm to 1.45pm and 4pm – 4.30pm. It is also open on Friday's from 1.15pm to 1.45pm. Tickets must be paid for in full by cash or cheque at time of booking. (No credit card facility) Bookings must be made in person at the Booking Office (Parents Room). No phone booking available. Please do not call to the school office to book.
BOYLE GOLF CLUB
The first round of the Spring League had been due to take place on the weekend of the 2nd and 3rd of February but the persisting low temperatures forced the closure of the course for the 2 days. The big event in the club calendar for February is the Captains and Lady Captains "Drive-In" on Sunday the 24th of February when respective captains Seamus Gallagher and Regina McLoughlin will get Boyle's golfing year off to its official start. We ask all members to come along to this most social of occasions and show support for  the for the year. The format of the competition itself on the day will be a 9 hole scramble for ladies and gents, ideal for getting the rust off after the winter months. One of the clubs greatest assets has been the willingness of many members to engage in voluntary work on behalf of the club whether that be in the clubhouse or out on the course. It is hoped that voluntary work on the course will re-commence this year from the 16th of February. If you are interested in helping out in any small capacity during the year , please make contact with Volunteers Co-ordinator, Michael Rush.
JUNIOR TENNIS COACHING RETURNS!!
The  term of 2019 Junior Tennis Coaching will commence on Wednesday 6th March.  Lesson times are 3:30-4:30 / 4:30-5:30 / 5:30-6:30 dependent on age and standard.  This will be a 6 week term costing. All equipment is provided. Booking is essential – please contact Tim our Tennis Ireland qualified coach on 083 1155374 to book your place!!  Please arrive 15 minutes before the start time of your first lesson to allow time for processing new season 2019 membership registration payments and coaching fees.
SPRING HEALTH WELLBEING & CRAFT FAIR
Bookings are now being taken for the Spring Health and Wellbeing Craft Fair that will take place in Boyle on Sunday March 10th, The Fair will take place in the Spool Factory Event Centre from 12 noon to 6pm. The event will feature complementary therapists, crafters, soap makers, crystals etc. For more details, contact Lucy on 0896014843. Some stalls are already booked and places are limited.
CURLEW WALKERS CLUB
The next meeting of the Curlew Walkers will take plave on Sunday 24th February meeting on The Crescent, Boyle at 11am. This will be a Flat Grade B from Cromleach Lodge to Ballyfarnon. Your leader for the day will be Eugene Griffin 086 256 0400. Please confirm times with leader or website prior to each walk www.walkingboyle.com
SCOIL NA NAINGEAL NAOFA ENROLMENT
Enrolment is now taking place for the 2019/20 season at Scoil na nAingeal Naofa in Boyle. Enrolment continues until March 7th with the school open day on March 5th. Application forms and details are available at the school or via email [email protected] or 071 9662737 Details will also be available on enrolment about the "Student only After School Club"
GROW REMOTE
'Grow Remote' – a new nationwide group who aim to uncover and build a full community around remote working will hold one of their first events in this area in the Spool Factory in Boyle in February. Grow Remote believe that both Roscommon and Leitrim are very suitable for remote working. The groups aim is to uncover and build a full community around remote working in this region, and the first thing they plan to do is meet up and get the ball rolling. The first meeting in this area will be held in The Spool Factory in Boyle on Tuesday February 12th with a second event in The Hive in Carrick on Shannon the following night. Grow Remote organisers would love to meet remote workers, job seekers, employers and anyone else interested in developing the sector for a free meet up. All are welcome" The Grow Remote community consists of co-working managers, freelancers, nomads, remote workers and remote working companies who believe that all 3 i.e. jobs, workers and communities need to move together to enable our communities to thrive. If you are any of the above, please keep Tuesday February 12th and Wednesday 13th in your diary.
AN EVENING WITH PERCY FRENCH
The County Leitrim Percy French Society  will be at Tawnytaskin Community Centre Boyle on Sunday 10th March at 8pm SHARP.  Contact Ann on 086 8130005 Tickets are €10 and are available in the following outlets; Boyle Credit Union, Adam's Apple Fruit & Veg Boyle, Úna Bhán Tourism Grounds of King House Boyle. Proceeds in aid of Tawnytaskin Community Centre.
BAGATELLE
40 years of original hits by the famous Bagatelle will be taking place in Teach Murray on Friday 15th March. Tickets available in Una Bhan Tourism in the grounds of King House, Boyle. For further information, call 071 966 3033.
TOWN DOORWAY'S
FOTOFIT Camera Club have been together happily snapping for the past three years. Excitement is building as we get ready for a special exhibition to be held later this year. The theme is 'Town Doorways' and we invite interested parties to get involved. The club would love to partner up with the people who own or work behind these doorways, be they business or private. If you are interested in letting us photograph your town door and possibly you outside it or if you require any further questions, then please contact Veronica at 086 377 6258 [email protected] or Sharon at 966 3146.
A MUST FOR YOUR DIARY
Boyle GAA to host 'I'm a Celebrity' Excitement is building ahead of next year's Boyle GAA organised 'I'm A Celebrity Get Me Out of Here' fundraiser. The event will take place on Saturday March 16th in St. Joseph's Hall. 24 contestants will battle it out to see who is the 'King or Queen of the Jungle'. The main sponsor of the night is LandEscape Pty Ltd, the Australian company run by Boyle man Padraig Sweeney. Based on the popular TV show, this event is unlike anything you have seen before! Contestants are fully dressed in their campsite costumes and compete alongside live snakes, reptiles and spiders surrounded by a jungle background.
COURTYARD MARKET
The all-weather Courtyard Market takes place every Saturday in the grounds of King House, Boyle from 10am until 2pm. If you would like to enjoy the best locally grown fresh and organic produce, then a trip to the Courtyard Market should be on your agenda. There is a wide range of seasonal produce, including organic fruit and vegetables, homemade jams and marmalade, organic free range eggs, fruit juices, gluten free/ sour dough/ spelt bread and all kinds of delicious home bakes are available every week. Alongside the food stalls are a number of crafters selling their handmade wares, personalized candles and knitwear. So why not come along and have a chat with the stall holders and avail of their ideas. For further information, please call Una Bhan on 071 9663 033
CV & OFFICE SERVICES
Are you looking for a new job? Are you having difficulty putting together your CV? Would you like some help? Then why not call into the Úna Bhán office in the grounds of King House, Boyle, where we will be delighted to give you any help, advice or information we can. A good CV could make all the difference in getting your job application through to the interview stage. We have a template and sheet of helpful tips to guide you through the process. We will also type your CV if you cannot do this yourself. Or you may just want to call in for a chat about your CV. All information will be treated in the strictest of confidence. For more details, contact Úna Bhán Tourism on 071 9663033. We also offer office services such as Photo Copying, Scanning, Laminating, Typing, Faxing, Binding and Printing.
ACC STUDENTS ENTER 'JUNK KOTURE'
Abbey College, Boyle students are busy finalising their entries for ' Junk Kouture 2019' .The ACC groups consist of Robin Wilson, Sophie Quinn, Amy O'Neill and "Its Bark is Worse Than it's Bite" created by Nicole Reilly and Ronan Dwyer. Junk Kouture is an all island competition for secondary school students which takes elements such as fashion, design, engineering and environmental sustainability and transforms them into a creative contest like no other. Inspiring young designers in second level education to use everyday junk materials to create striking works of wearable art, the competition calls on all budding fashionistas to see if they have what it takes to be crowned King or Queen of the upcycled catwalk. Hitting its ninth year running, Bank of Ireland Junk Kouture has already captivated over 24,000 students, 7,000 teachers and 100,000 audience members.