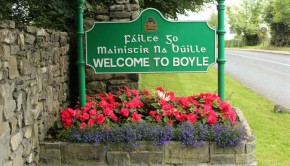 MINISTER MICHAEL RING TO VISIT BOYLE
According to a report on Boyletoday.com, Minister for Rural and Community Development Michael Ring is scheduled to visit Boyle on Thursday February 28th. During his time in Boyle, Minister Ring will view plans for the Royal Building, the Lough Key to Boyle Greenway and the Pilot Residential Occupancy Scheme. He will meet with local councillors and members of Boyle Town Tem who will brief him on further phases of the Boyle 2040 plan which will progress in 2019. Last week Boyle secured €1.7m from the Rural Regeneration Fund that is administered by Minister Ring's department. Last Friday's major funding announcement came following earlier allocations for Boyle under the Town and Village Scheme and the Outdoor Recreation Infrastructure Scheme, both of which come under the remit of the Minister's Department of Rural and Community Development.
THE KIDS BOOKCLUB
New Children's Book Club for the ages of 7-9 and 0-12 will be held monthly in the Boyle Branch Library on Friday's at 3.30pm. Numbers are strictly limited so don't delay signing up.
SCOIL NA NAINGEAL NAOFA ENROLMENT
Enrolment is now taking place for the 2019/20 season at Scoil na nAingeal Naofa in Boyle. Enrolment continues until March 7th with the school open day on March 5th. Application forms and details are available at the school or via email [email protected] or 071 9662737 Details will also be available on enrolment about the "Student only After School Club"
ATTENTION FARMING COMMUNITY
Úna Bhán Tourism are delighted to be offering free computer training courses again, starting in March. This unique opportunity to develop digital skills and learn basic functions is for beginners or those eager to improve in a fun and easy way. The course includes how to set up an email account, send and receive emails / how to search the internet in a safe and secure way / Complete vehicle taxation online instead of paper form / Set up your own banking online account and learn how to bank online. More importantly for the farming community the training will teach how to register your farm on Agfood.ie, which allows you to Record the Birth of a Calf; Complete and Print Farm-to-Farm Movements; & Print your Herd Profile for your Farm Accountant. Courses are limited to 10 people at a time and will be held in Boyle Library. The training programme is funded through the Department of Communications, Climate Action and Environment (DCCAE) Please call Nigel on 071 966 3033 to register.
AGING WELL
A Journey of Discovery and Engagement facilitated by Dr Kevin Egan a lecturer in psychology for many years at All Hallows College, Dublin City University and currently working as a psychotherapist in private practice in Boyle. Taking place in Abbey Community College on Tuesday March 12th at 8pm. No booking required and all welcome.
JUNIOR TENNIS COACHING RETURNS
The term of 2019 Junior Tennis Coaching will commence on Wednesday 6th March.  Lesson times are 3:30-4:30 / 4:30-5:30 / 5:30-6:30 dependent on age and standard.  This will be a 6-week term costing. All equipment is provided. Booking is essential – please contact Tim our Tennis Ireland qualified coach on 083 1155374 to book your place!!  Please arrive 15 minutes before the start time of your first lesson to allow time for processing new season 2019 membership registration payments and coaching fees.
SPRING HEALTH WELLBEING & CRAFT FAIR
Bookings are now being taken for the Spring Health and Wellbeing Craft Fair that will take place in Boyle on Sunday March 10th, The Fair will take place in the Spool Factory Event Centre from 12 noon to 6pm. The event will feature complementary therapists, crafters, soap makers, crystals etc. For more details, contact Lucy on 0896014843. Some stalls are already booked and places are limited.
CURLEW WALKERS CLUB
The next meeting of the Curlew Walkers will take plave on Sunday 10th March. Meeting on The Crescent, Boyle at 10am. This will be a Climb Grade B at Kings Gully. Your leader for the day will be Philip James 086 335 3000 Please confirm with leader or website prior to each walk www.walkingboyle.com
AN EVENING WITH PERCY FRENCH
The County Leitrim Percy French Society will be at Tawnytaskin Community Centre Boyle on Sunday 10th March at 8pm SHARP.  Contact Ann on 086 8130005 Tickets are €10 and are available in the following outlets; Boyle Credit Union, Adam's Apple Fruit & Veg Boyle, Úna Bhán Tourism Grounds of King House Boyle. Proceeds in aid of Tawnytaskin Community Centre.
BAGATELLE
40 years of original hits by the famous Bagatelle will be taking place in Teach Murray on Friday 15th March. Tickets available in Una Bhan Tourism in the grounds of King House, Boyle. For further information, call 071 966 3033.
A MUST FOR YOUR DIARY
Boyle GAA to host 'I'm a Celebrity' Excitement is building ahead of next year's Boyle GAA organised 'I'm A Celebrity Get Me Out of Here' fundraiser. The event will take place on Saturday March 16th in St. Joseph's Hall. 24 contestants will battle it out to see who is the 'King or Queen of the Jungle'. The main sponsor of the night is LandEscape Pty Ltd, the Australian company run by Boyle man Padraig Sweeney. Based on the popular TV show, this event is unlike anything you have seen before! Contestants are fully dressed in their campsite costumes and compete alongside live snakes, reptiles and spiders surrounded by a jungle background.
BOYLE AND DISTRICT ANGLING CLUB
The Paddy Sharkey Perpetual Memorial Lough Gara Cup will take place on Sunday 31st March with fishing commencing at 11am until 5pm. Check in entries will be taken at Templeronan Pier. Presentation on the shore. For information contact Jane Suffin on 086 830 1261. Please support the strict catch and release policy on Pike Angling.
BOYLE GOLF CLUB
The final round of this year's Spring League was played on Sunday the 17th of February and was won by Ross Andrews 39 points, 2nd and 3rd places going to Vincent Egan and Paul Connolly with 38 points apiece. The overall winner of this year's Spring League was club treasurer, Paul Connolly, with Willie Tiernan coming 2nd. Members are reminded that fees for 2019 are now due .  Membership letters are currently being issued but for anyone wishing to go ahead and pay by online banking, the club account IBAN is IE59BOFI90532822439700, please include your name as the reference. The rates remain unchanged from last year, some of the main membership category prices are – Junior Member (under 18) – 60 euro, 1st year beginner – 170 euro, Under 30 member – 275 euro, Full Single Member – 395 euro, Family Membership – 660 euro, Senior Member – 275 euro, Distant Member Single – 185 euro. A more comprehensive list of the various membership rates is available on the club's website under "rates" on www.boylegolfclub.com.
COURTYARD MARKET
The all-weather Courtyard Market takes place every Saturday in the grounds of King House, Boyle from 10am until 2pm. If you would like to enjoy the best locally grown fresh and organic produce, then a trip to the Courtyard Market should be on your agenda. There is a wide range of seasonal produce, including organic fruit and vegetables, homemade jams and marmalade, organic free range eggs, fruit juices, gluten free/ sour dough/ spelt bread and all kinds of delicious home bakes are available every week. Alongside the food stalls are a number of crafters selling their handmade wares, personalized candles and knitwear. So why not come along and have a chat with the stall holders and avail of their ideas. For further information, please call Una Bhan on 071 9663 033
CV & OFFICE SERVICES
Are you looking for a new job? Are you having difficulty putting together your CV? Would you like some help? Then why not call into the Úna Bhán office in the grounds of King House, Boyle, where we will be delighted to give you any help, advice or information we can. A good CV could make all the difference in getting your job application through to the interview stage. We have a template and sheet of helpful tips to guide you through the process. We will also type your CV if you cannot do this yourself. Or you may just want to call in for a chat about your CV. All information will be treated in the strictest of confidence. For more details, contact Úna Bhán Tourism on 071 9663033. We also offer office services such as Photo Copying, Scanning, Laminating, Typing, Faxing, Binding and Printing.