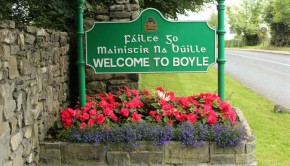 BOYLE MEN'S SHED
The Crescent, Boyle, Co. Roscommon Tony Byrne 086 232 4020 [email protected] Boyle Men's Shed has reopened for the following days, Monday Wednesday and Friday from 11 am to 4pm. Call in and see what we do – have a coffee and a snack. If you have grass that needs cutting, gates that need to be put up again or small tasks needing attention we are more than happy to help.
KNOCKVICAR ORGANIC GARDEN
There is a free guided tour of the gardens on Saturdays and bank holidays at 3pm. The last Saturday of each month there is a bring and bake using the wood fired oven from 11am-2pm.
WEEKLY BIBLE STUDIES
Wednesdays at 7.30 pm on the top floor of the Spool Factory, Boyle.
ALCOHOLICS ANONYMOUS MEETING
Every Thursday at midday in St. Joseph's Hall. Alcoholics Anonymous is an international fellowship of men and women who have had a drinking problem. Their stated purpose is to enable "members to stay sober and help other alcoholics achieve sobriety." It is nonprofessional, self-supporting, and apolitical.
CALLING ALL CRAFT PRODUCERS
Boyle Craft Shop is seeking talented and unique Irish and Local crafters. Are you a small scale producer seeking new opportunities to sell and promote your products? Boyle Craft Shop is the proud home of local and exclusive crafts in the Boyle Region. We are always looking to promote new and established local talent. If you wish to display and sell your crafts though our shop, please contact Anna by emailing [email protected] or call us on 071 966 3033.
BOYLE TRAINING OPTIONS
A training Initiative by Roscommon LEADER Partnership, providing Free Quality Education to the Local Community. Located on Elphin Street in the former Roscommon Learning Links building. For information please call 086 014 8270.
BOYLE PRIDE OF PLACE 2018
Judging will take place on Tuesday August 13th commencing at 2.30pm. Community groups and organisations will soon be contacted to forward a brief outline of their group, how they participate with the community and to include a photograph. It is also important that groups and organisations make representatives available for judging day and to this effect, please keep free Tuesday afternoon August 13th.
BOYLE GAA
Boyle GAA is delighted to announce that work on the training pitch has now been completed. This is a significant enhancement of the training facilities for all our teams in four different codes: men's football, ladies football, camogie and hurling. The Club would like to extend a very sincere thanks to the friends of the Club who have made this development a reality for the whole community. In other news, the U20 Boys Campaign is almost upon us. Many thanks to Donie Smith and his selectors who have been in charge of the team for the last two years. Donie is stepping aside this year and so the Club is seeking a new manager for the team. If interested, please contact our Chairperson at 086 122 9421 to discuss.
HOST FAMILIES
As reported on Boyletoday.com, a number of host families for Spanish language students are sought in Boyle this September and October. Midland Language Centre is seeking families to host the teenagers (aged 12-15) from September 3rd to October 30th. The students will be attending classes in Abbey Community College during this time. It is preferable if the host families have children of a similar age. Host families will be paid €1480. If you are interested in hosting one of these students, please call MLC ASAP on 043 33 46832.
ROSCOMMON RAPID RESPONSE
Boyletoday.com report that Roscommon Rapid Response is currently implementing a program that can increase the survival rate for people who experience a cardiac arrest in Co. Roscommon. The program is being made possible with grant aid support from Roscommon Integrated Development Co, through the Leader Programme. The current survival rate is between 3%-5% and we are aiming to achieve a 25% survival rate – saving the lives of an additional 30 Roscommon resident's each year. The group will hold an information meeting in Boyle on Wednesday July 31st to which all members of the public are invited to attend. If you or your organisation are providing defibrillators we would appreciate if you could register and provide details on database link: http://townapps.ie/roscommon-defib-survey/ or access through Town Apps Website. We invite you to attend our information meeting at 9pm in St. Joseph's Hall, Boyle on Wednesday 31st July. Further information is available from Roscommon Rapid Response, email[email protected] or call 087 319 7610.
THE CRESCENT BYE-LAWS
Following several years of lobbying, Roscommon Co Councillors passed the new bye laws for trading on the Crescent and other site in the county. Roscommon councillors have voted by a majority of 15 to 2 to bring in casual trading laws for the county after the issue was first mooted more than a decade ago. The bye laws will apply to all towns in the county and cover issues like goods that may be traded, designated trading areas and trading times, insurance requirements and parking of vehicles.
ROAD WORKS
Road works will be taking place in Carrick- on -Shannon, Co. Leitrim, on the N4, commencing on Monday 15th July 2019 and will continue to Friday 2nd of August 2019. Night time works will be commencing on Monday 15th- Thursday 18th from 7pm-3am. On Monday 22nd July – Friday 2nd August, works will be carried out from 5am-4pm. These works are in the town itself. For those familiar with the location the works will start at the bridge (expected to last 4 days) and will move to the N4 along the River Shannon in the town. Traffic will be down to one lane and will operate on a stop/go system. Expect delays for the duration of the works.
BOYLE FAMILY RESOURCE CENTRE
 CLG contact details. website: www.boylefrc.ie. We are also on twitter: www.twitter.com/FLCBoyle.  Email: [email protected] – Counselling Service: [email protected] Telephone: 071 966 3000. Charity No: 20153519.  If you would like to be added to our mailing list, please let us know. Booking essential for all groups, courses and workshops.  Boyle FRC & Boyle Counselling & Psychotherapy Centre will be closed for summer holidays from Monday 5th August to Friday 9th August inclusive. Re-opening Monday 12th August at 9am.  We wish everyone a very happy and pleasant summer.
POST OF GENERAL OPERATIVE/DRIVER
Boyle Family Resource Centre is seeking to recruit a part time General Operative/Driver through the Roscommon Rural Social Scheme.  The post will be based in Boyle FRC.  Category B driving licence essential.  To be eligible to apply, the candidate or their immediate family must have an active herd number and be in receipt of a means tested Social Welfare payment i.e. Farm Assist or Jobseekers Allowance.  Please ring Deborah at Boyle Family Resource Centre on 071 966 3000.
BOYLE FOOD PARTNERSHIP
Community FEAD and Food Cloud. If you and/or your family need food, we distribute food through these programmes at Boyle Family Resource Centre (FRC).  Please text the word FOOD + your first name to 086 049 6467 to receive details. Distribution times are: Monday 2.30pm-4pm or Wednesday 2.30pm-3.30pm or Friday 3pm-4.30pm.
BOYLE BREASTFEEDING SUPPORT
A space where you and your baby will receive lots of support, a warm welcome & cuppa!  Older siblings are very welcome to come along as are expectant mothers.  Friday August 30th at 10am in Boyle Family Resource Centre.  Cost: €2 or donation
SPANISH CLASS WITH LAURA
Please register your interest for a lunch time class from 12.30pm-1.30pm in Boyle Family Resource Centre 071 966 3000.  Dates to be decided.
CLOTHING BANK FOR YOUR SUMMER CLEAR OUT
There is a clothing bank outside Boyle Family Resource Centre which accepts old clothes and bed linen, handbags, and shoes that are sent for recycling. Your support and donations are very much appreciated as this helps raise funds towards the Centres programmes and community work. NO DUVETS AND PILLOWS AS THEY WILL NOT BE ACCEPTED BY THE RECYCLING COMPANY. Thank you.
WHAT IS COUNSELLING & PSYCHOTHERAPY
Counselling & Psychotherapy is for anybody.  Sometimes life can be difficult for us, it can be unmanageable and challenging. Counselling can be a great support or resource at times of crisis or difficulty in our lives.  It involves meeting with a trained Professional Therapist in a safe confidential setting allowing you to talk about and explore life's challenges in a non-judgemental space.  Appointments are available Monday to Friday, day and evening. Therapeutic Support for Families, Adolescents, Couples and Individuals. The cost is on a sliding scale and is negotiable. Please contact Marie on 071 966 3000 or Maura on 071 966 3841 in Boyle Family Resource Centre. All our programmes and services are confidential and professional.
ROSCOMMON SUICIDE BEREAVEMENT LIAISON SERVICE
Roscommon Suicide Bereavement Liaison Service is a free & confidential service that provides assistance & support to families & individuals grieving the death of a loved one by suicide.  Contact: Tiffany Jennings Walsh, Suicide Bereavement Liaison Officer on 085 740 7856 or Boyle Family Resource Centre (FRC) on 071 966 3000. This service is funded by the HSE National Office for Suicide Prevention.
PARENT AND TODDLER GROUP
Parent/toddler groups can be a great way of meeting other people with children the same age as yours in your area.  It is open to childminders, grandparents and other guardians. Every Tuesday and Thursday morning from 10am–12.30pm in Boyle Family Resource Centre (FRC) 071 966 3000.  Cost: Donation. A chance to meet and enjoy being with parents/carers where children can play together in a child friendly environment.
ADMINISTRATION SERVICES
Boyle Family Resource Centre (FRC) offer a wide range of Office and Administration Services at affordable rates.  Services include typing, laminating, binding, scanning, faxing, photocopying A4 & A3.  We offer internet access / Wi-Fi in our drop-in room and use of a PC.  If you require a large amount of photocopying/office services, please call in advance to book on 071 966 3000.
O' CAROLAN HARP FESTIVAL AND SUMMER SCHOOL
The O' Carolan Harp and Traditional Music Festival is held in Keadue, County Roscommon every August Bank Holiday, this year it begins on the 29th of July. The Festival was started in Keadue in 1978, to commemorate the famous Harper Turlough O'Carolan who lived in the area and is buried beside Keadue. Keadue is a small village of 200 people located on the shores of Lough Meelagh at the foot of the Arigna Mountains. The Festival includes Concerts, Ceili, Tuition on the Harp, Set Dancing, Harp Recitals and a Harp Competition.
CASTLEREA ROSE FESTIVAL
The Castlerea Rose Festival is one of the most successful and entertaining family festivals in the West of Ireland. The nine-day festival is packed with over 30 events including a Grand Opening Parade, Live Street Music, Family Fun Day, Historical Walks, Photo exhibitions and of course the Crowning of the Rose of Castlerea. It starts on the 27th of July. Visit the website at www.castlerearosefestival.com for more information.
FREE COMPUTER TRAINING
Úna Bhán Tourism are delighted to be offering free computer training courses again. This unique opportunity to develop digital skills and learn basic functions is for beginners or those eager to improve in a fun and easy way. The course includes how to set up an email account, send and receive emails / how to search the internet in a safe and secure way / Complete vehicle taxation online instead of paper form & how to set up and use online banking. More importantly for the farming community the training will teach how to register your farm on Agfood.ie, which allows you to Record the Birth of a Calf; Complete and Print Farm-to-Farm Movements & Print your Herd Profile for your Farm Accountant. Courses are limited to 10 people at a time and will be held in Boyle Library. The training programme is funded through the Department of Communications, Climate Action and Environment (DCCAE). Please contact Nigel on (071) 966 3033 for more details or to book your place.
BOYLE COURTYARD MARKET
The all-weather Courtyard Market takes place every Saturday in the grounds of King House, Boyle from 10am until 2pm. If you would like to enjoy the best locally grown fresh and organic produce, then a trip to the Courtyard Market should be on your agenda. There is a wide range of seasonal produce, including organic fruit and vegetables, homemade jams and marmalade, organic free range eggs, fruit juices, gluten free/ sour dough/ spelt bread and all kinds of delicious home bakes are available every week. Alongside the food stalls are a number of crafters selling their handmade wares, personalized candles and knitwear. So why not come along and have a chat with the stall holders and avail of their ideas. For further information, please call Una Bhan on 071 966 3033
CV & OFFICE SERVICES
Are you looking for a new job? Are you having difficulty putting together your CV? Would you like some help? Then why not call into the Úna Bhán office in the grounds of King House, Boyle, where we will be delighted to give you any help, advice or information we can. A good CV could make all the difference in getting your job application through to the interview stage. We have a template and sheet of helpful tips to guide you through the process. We will also type your CV if you cannot do this yourself. Or you may just want to call in for a chat about your CV. All information will be treated in the strictest of confidence. For more details, contact Úna Bhán Tourism on 071 966 3033. We also offer office services such as Photocopying, Scanning, Laminating, Typing, Faxing, Binding and Printing.
VOLUNTEERS WANTED
Volunteers required to work afternoons in Western Alzheimer's Charity Shop, Boyle. For further information, contact Fiona on 087 687 3283
FOOD AND CRAFTERS WANTED
Food and craft producers wanted for O' Carolan International Harp Festival, Keadue for Sunday 4th August 2019, if interested please contact Imelda 087 645 3840 or [email protected]