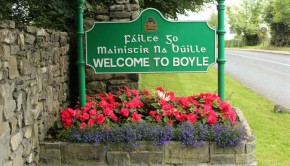 FREE COMPUTER TRAINING
Úna Bhán Tourism are delighted to be offering free computer training courses again. This unique opportunity to develop digital skills and learn basic functions is for beginners or those eager to improve in a fun and easy way. The course includes how to set up an email account, send and receive emails / how to search the internet in a safe and secure way / Complete vehicle taxation online instead of paper form & how to set up and use online banking. More importantly for the farming community the training will teach how to register your farm on Agfood.ie, which allows you to Record the Birth of a Calf; Complete and Print Farm-to-Farm Movements & Print your Herd Profile for your Farm Accountant. Courses are limited to 10 people at a time and will be held in Boyle Library. The training programme is funded through the Department of Communications, Climate Action and Environment (DCCAE). The next course starts on 4th June – spaces are filling fast, so please contact Nigel on (071) 966 3033 for more details or to book your place.
BOYLE COURTYARD MARKET
The all-weather Courtyard Market takes place every Saturday in the grounds of King House, Boyle from 10am until 2pm. If you would like to enjoy the best locally grown fresh and organic produce, then a trip to the Courtyard Market should be on your agenda. There is a wide range of seasonal produce, including organic fruit and vegetables, homemade jams and marmalade, organic free range eggs, fruit juices, gluten free/ sour dough/ spelt bread and all kinds of delicious home bakes are available every week. Alongside the food stalls are a number of crafters selling their handmade wares, personalized candles and knitwear. So why not come along and have a chat with the stall holders and avail of their ideas. For further information, please call Una Bhan on 071 966 3033
CV & OFFICE SERVICES
Are you looking for a new job? Are you having difficulty putting together your CV? Would you like some help? Then why not call into the Úna Bhán office in the grounds of King House, Boyle, where we will be delighted to give you any help, advice or information we can. A good CV could make all the difference in getting your job application through to the interview stage. We have a template and sheet of helpful tips to guide you through the process. We will also type your CV if you cannot do this yourself. Or you may just want to call in for a chat about your CV. All information will be treated in the strictest of confidence. For more details, contact Úna Bhán Tourism on 071 966 3033. We also offer office services such as Photocopying, Scanning, Laminating, Typing, Faxing, Binding and Printing.
FCA ASSOCIATION ANNUAL TOUR
19th. Inf. Bn. FCA Association Annual Tour this year on Wednesday – 26th. June. Further details and brochure in next few weeks. Seats limited to 57, so get your places booked ASAP. Contact Francie Geelan 087 223 4477
VOLUNTEERS WANTED
Volunteers required to work afternoons in Western Alzheimer's Charity Shop, Boyle. For further information, contact Fiona on 087 687 3283
FOOD AND CRAFTERS WANTED
Food and craft producers wanted for O' Carolan International Harp Festival, Keadue for Sunday 4th August 2019, if interested please contact Imelda 087 645 3840 or [email protected]
CLASS OF 1979 REUNION
Scoil Chriost an Ri, Boyle. Saturday 6th July at 8pm in The Stairs Boyle. Those who were part of the class from 1974-1979 are welcome to come along.
BOYLE MEN'S SHED
The Crescent, Boyle, Co. Roscommon Tony Byrne 086 232 4020 [email protected] Boyle Men's Shed has reopened for the following days, Monday Wednesday and Friday from 11 am to 4pm. Call in and see what we do – have a coffee and a snack. If you have grass that needs cutting, gates that need to be put up again or small tasks needing attention we are more than happy to help.
PROVISION FOR CHILDREN WITH ASD
Any parents of children with ASD or other diagnosis, who may be entitled to July Provision and are seeking a teacher for this July, please contact Sheila on 087 629 0423 or [email protected]
KNOCKVICAR ORGANIC GARDEN
There is a free guided tour of the gardens on Saturdays and bank holidays at 3pm. The last Saturday of each month there is a bring and bake using the wood fired oven from 11am-2pm.
BOYLE ARTS FESTIVAL
The Festival calendar already includes almost fifty events, including an impressive mix of live music, visual arts, opera, drama, film, comedy, interviews, workshops, storytelling, children's events, poetry, readings and much more! If you are planning a visit to Boyle this summer, then make it late July, so you can enjoy as much of BAF 2019 as possible! Boyle Arts Festival will open on July 18th and run until July 27th. Some of the big names to watch out for in the live music genre include The Riptide Movement who will perform in The Storehouse on July 20th and The Blizzards, who will play there on July 26th. Tommy Fleming will bring his 'Voice of Hope ll' concert to St. Joseph's Church on July 21st. Charlie McGettigan & Paul Harrington will celebrate the 25th anniversary of their Eurovision win with 'Rock & Roll Kids', during a rare performance together in the Church of Ireland, on July 23rd. For more information on Boyle Arts Festival 2019 please visit www.boylearts.com email [email protected]Follow us on Facebook and Twitter. Boyle Arts Festival is supported by The Arts Council, Local Sponsors, Roscommon Co. Council and Fáilte Ireland.
WEEKLY BIBLE STUDIES
Wednesdays at 7.30 pm on the top floor of the Spool Factory, Boyle.
COLLECTIVE VIEW EXHIBITION AT KING HOUSE
The exhibition was officially launched by Orlaith McBride, Director of the Arts Council on Friday May 17th, 6pm at King House, Boyle. Collective View presents an overview of how collections are formed and investigates the act of collecting as a civic gesture. Drawn from two diverse collections it offers new perspectives on the contribution made by older artists to our cultural landscape. The exhibition features work by some of Ireland's most celebrated artists including Janet Mullarney, Elizabeth Magill, Willie Doherty and Anne Madden among others. This exhibition is supported by Roscommon County Council Arts Office, Bealtaine Festival and the Collection of the Arts Council.  The exhibition continues until June 14th. For further information, contact: [email protected]
PERCY FRENCH FESTIVAL 2019
The 11th annual Percy French Festival takes place in Castlecoote House from the 10th to the 12th of July 2019.
ALCOHOLICS ANONYMOUS MEETING
Every Thursday at midday in St. Joseph's Hall. Alcoholics Anonymous is an international fellowship of men and women who have had a drinking problem. Their stated purpose is to enable "members to stay sober and help other alcoholics achieve sobriety." It is nonprofessional, self-supporting, and apolitical.
ABBEY COMMUNITY COLLEGE TY STUDENT SUCCESSES
Congratulations to Dillon Johnson and Nathaniel Pries, Transition Year students from Abbey Community College, Boyle, who reached the finals of the the ECOUNESCO Environmental Protection Schools Competition in the convention centre in Dublin with their fantastic project on recycling. They introduced a recycling system into the school and promoted the benefits of recycling to local primary school students in Boyle. Well done also to Mr Costello who coordinated the students.
DOG EVENT AT THE COURTYARD MARKET
The Courtyard Market on the grounds of King House, Boyle are proud to be hosting a dog event on Saturday the 8th June. As well as the usual farmer's market there will be additional stalls with information about dogs and the Roscommon SPCA will be fundraising. There will be dog food samples, goodie bags and a groomer on the day offering free nail clipping and doggie cologne. It's a great opportunity to socialise your dog, learn something new, meet other dog lovers in the community and treat yourself to something nice from the market too! Make sure to mark it in your calendar, Saturday the 8th of June from 10 am to 2 pm.
HOLISTIC FAYRE
Saturday the 8th June 1pm to 7pm at the Spool Factory, Boyle. Contact Lucy on 089 603 8531 for more details.
BOYLE FAMILY RESOURCE CENTRE
CLG contact details. website: www.boylefrc.ie. We are also on twitter: www.twitter.com/FLCBoyle.  Email: [email protected] – Counselling Service: [email protected] Telephone: 071 966 3000. Charity No: 20153519.  If you would like to be added to our mailing list, please let us know. Booking essential for all groups, courses and workshops.
BABY AND ME
5 week programme for New Mums (babies up to 6 months) & Mums to be starts Friday May 24th from 10.30am-12.30pm in Boyle Family Resource Centre 071 966 3000.  Guest speakers each week. Welcoming space to meet with other Mums to be and New Mums.  Cost: Donation/€2.  Booking essential.  You're welcome to join any Friday.
FAMILY SUPPORT DROP IN CLINIC
A drop in confidential space for parents and families to call in and receive support and a listening ear about issues and concerns about you and/or your children. Wednesday mornings during primary school term 9.30am-12pm.  An interagency project together with Boyle FRC, Foroige & Tusla. Boyle Family Resource Centre 071 966 3000.
BOYLE FOOD PARTNERSHIP
Community FEAD and Food Cloud. If you and/or your family need food, we distribute food through these programmes at Boyle Family Resource Centre (FRC).  Please text the word FOOD + your first name to 086 049 6467 to receive details. Distribution times are: Monday 2.30pm-4pm or Wednesday 2.30pm-3.30pm or Friday 3pm-4.30pm.
WIDOW & WIDOWERS SUPPORT GROUP
Support for those grieving the death of their spouse.  Thursday June 13th, 7.30pm-9pm in Boyle Family Resource Centre.  Cost: Donation.  No booking necessary.
BOYLE BREASTFEEDING SUPPORT
A space where you and your baby will receive lots of support, a warm welcome & cuppa!  Older siblings are very welcome to come along as are expectant mothers.  Friday May 31st at 10am in Boyle Family Resource Centre.  Cost: €2 or donation
ENGLISH LANGUAGE CLASS WITH CATHERINE OR MAURA
Tuesdays from 12.30pm-1.30pm Cost: €3/donation in Boyle Family Resource Centre. Booking essential. For more information, please contact the Centre on 071 966 3000. All welcome.
Anglų kalbos klasė
Antradieniais nuo 12.30 iki 13.30 val. Kaina: 3 EUR / dotacija Boyle šeimos išteklių centre. Būtinas rezervavimas. Norėdami gauti daugiau informacijos, prašome kreiptis į Centre adresu 071 966 3000. Visi laukiami.
Limba engleză
Martea de la 12.30-1.20.30 Cost: € 3 / donație în Centrul de resurse familiale Boyle. Rezervarea esențială. Pentru mai multe informații, vă rugăm să contactați Centrul de pe 071 966 3000. Toate binevenite.
Klasa języka angielskiego
Wtorki od 12:30 do 13:30 Koszt: 3 € / darowizna w Boyle Family Resource Center. Rezerwacja niezbędna. Aby uzyskać więcej informacji, skontaktuj się z Centrum na 071 966 3000. Wszystkie mile widziane.
CLOTHING BANK FOR YOUR SPRING CLEAR OUT
There is a clothing bank outside Boyle Family Resource Centre which accepts old clothes and bed linen, handbags, and shoes that are sent for recycling. Your support and donations are very much appreciated as this helps raise funds towards the Centres programmes and community work. NO DUVETS AND PILLOWS AS THEY WILL NOT BE ACCEPTED BY THE RECYCLING COMPANY. Thank you.
WHAT IS COUNSELLING & PSYCHOTHERAPY
Counselling & Psychotherapy is for anybody.  Sometimes life can be difficult for us, it can be unmanageable and challenging. Counselling can be a great support or resource at times of crisis or difficulty in our lives.  It involves meeting with a trained Professional Therapist in a safe confidential setting allowing you to talk about and explore life's challenges in a non-judgemental space.  Appointments are available Monday to Friday, day and evening. Therapeutic Support for Families, Adolescents, Couples and Individuals. The cost is on a sliding scale and is negotiable. Please contact Marie on 071 966 3000 or Maura on 071 966 3841 in Boyle Family Resource Centre. All our programmes and services are confidential and professional.
ROSCOMMON SUICIDE BEREAVEMENT LIAISON SERVICE
Roscommon Suicide Bereavement Liaison Service is a free & confidential service that provides assistance & support to families & individuals grieving the death of a loved one by suicide.  Contact: Tiffany Jennings Walsh, Suicide Bereavement Liaison Officer on 085 740 7856 or Boyle Family Resource Centre (FRC) on 071 966 3000. This service is funded by the HSE National Office for Suicide Prevention.
PARENT AND TODDLER GROUP
Parent/toddler groups can be a great way of meeting other people with children the same age as yours in your area.  It is open to childminders, grandparents and other guardians. Every Tuesday and Thursday morning from 10am–12.30pm in Boyle Family Resource Centre (FRC) 071 966 3000.  Cost: Donation. A chance to meet and enjoy being with parents/carers where children can play together in a child friendly environment. Bazz Art Tuesday June 11th, 10am-11am sharp.
ADMINISTRATION SERVICES
Boyle Family Resource Centre (FRC) offer a wide range of Office and Administration Services at affordable rates.  Services include typing, laminating, binding, scanning, faxing, photocopying A4 & A3. We offer internet access / Wi-Fi in our drop-in room and use of a PC.  If you require a large amount of photocopying/office services, please call in advance to book on 071 966 3000.
HOOLEY IN THE KITCHEN
Well done to everyone who took part in the hooley in the kitchen in the Plunkett Home and Drumderrig nursing home on Thursday, May 30th. It was a huge success that was thoroughly enjoyed by many different generations. A special thank you to Sabrina and Anna from Una Bhan Tourism who put their heart and soul into organising the event and to Patricia Golden for allowing community projects to be at the heart of their work in Una Bhan Tourism. It will be remembered for years to come!