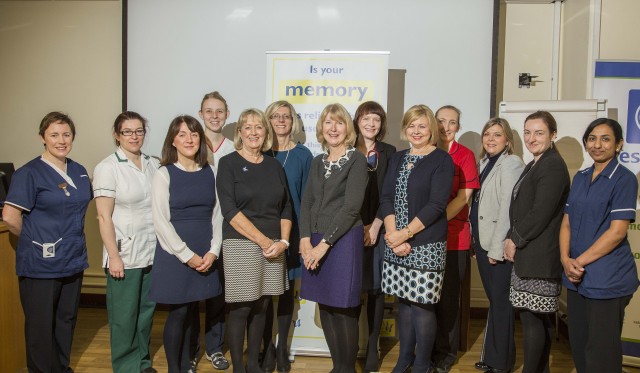 Sligo University Hospital, in collaboration with the founder of the Butterfly Scheme, Barbara Hodkinson, officially launched the 'Butterfly Scheme' this week.
The Butterfly Scheme creates an opportunity for people with memory impairment and dementia to communicate this concern to hospital staff. While enhancing awareness via a discrete at a glance visual cue (The Butterfly Symbol), the Scheme also provides staff with practical training to offer a simple, five-point, targeted response to meet their needs. Research undertaken in the UK has demonstrated that patients who choose to use this symbol receive more effective and appropriate person centred care while in hospital.
A significant number of hospital staff volunteered as Butterfly Champions and completed their training under the leadership of Barbara Hodkinson, the UK founder of the Butterfly Scheme. The Butterfly Champions include all members of staff working in all areas of the hospital to include ward clerks, multi task attendants, radiology staff, therapists, catering staff, nurses, doctors etc. In addition it is anticipated that all staff will receive training in a specific dementia care response called the REACH response over the coming weeks and months.
Dr Grainne O'Malley, Consultant Geriatrician, Sligo University Hospital welcomed the scheme and said, "The Butterfly Scheme will increase awareness of memory impairment and dementia amongst all staff". Given that 20% of people presenting to the acute service have dementia, this initiative is pivotal in enhancing care for this vulnerable group and aligns with key principles of the Irish National Dementia Strategy launched in 2014. The success of this scheme is evident in the United Kingdom with 100% "opt in" from patients and their families. In addition National Audits of Dementia Care in Acute Hospitals in the United Kingdom have included the introduction of this scheme in all acute hospitals as a key recommendation in enhancing dementia care".
Eileen Carolan, Nurse Practice Development Unit, Sligo University Hospital also welcomed the introduction of this dementia friendly initiative.  "Given the recent launch of the national dementia awareness media campaign "Understand Together", this initiative is quite timely and provides a framework for hospital staff to understand and become more aware of dementia. The incentive to introduce this scheme arose primarily from the work of the Frail Elderly Group which acknowledged an increasing prevalence of dementia but poor awareness of this diagnosis in practice and the negative impact that the hospital experience may have on a person with dementia. The introduction of the "Butterfly" as a visual cue will enable staff to identify patients with dementia and memory impairment and thus provide appropriate person centred care to meet their individual needs. The Frail Elderly Group are delighted that months of planning under the expert guidance of Ms. Barbara Hodkinson has now concluded with a very successful launch. Sligo University Hospital now look forward to implementing this initiative in practice".