News
'Fall in Love with Boyle' weekend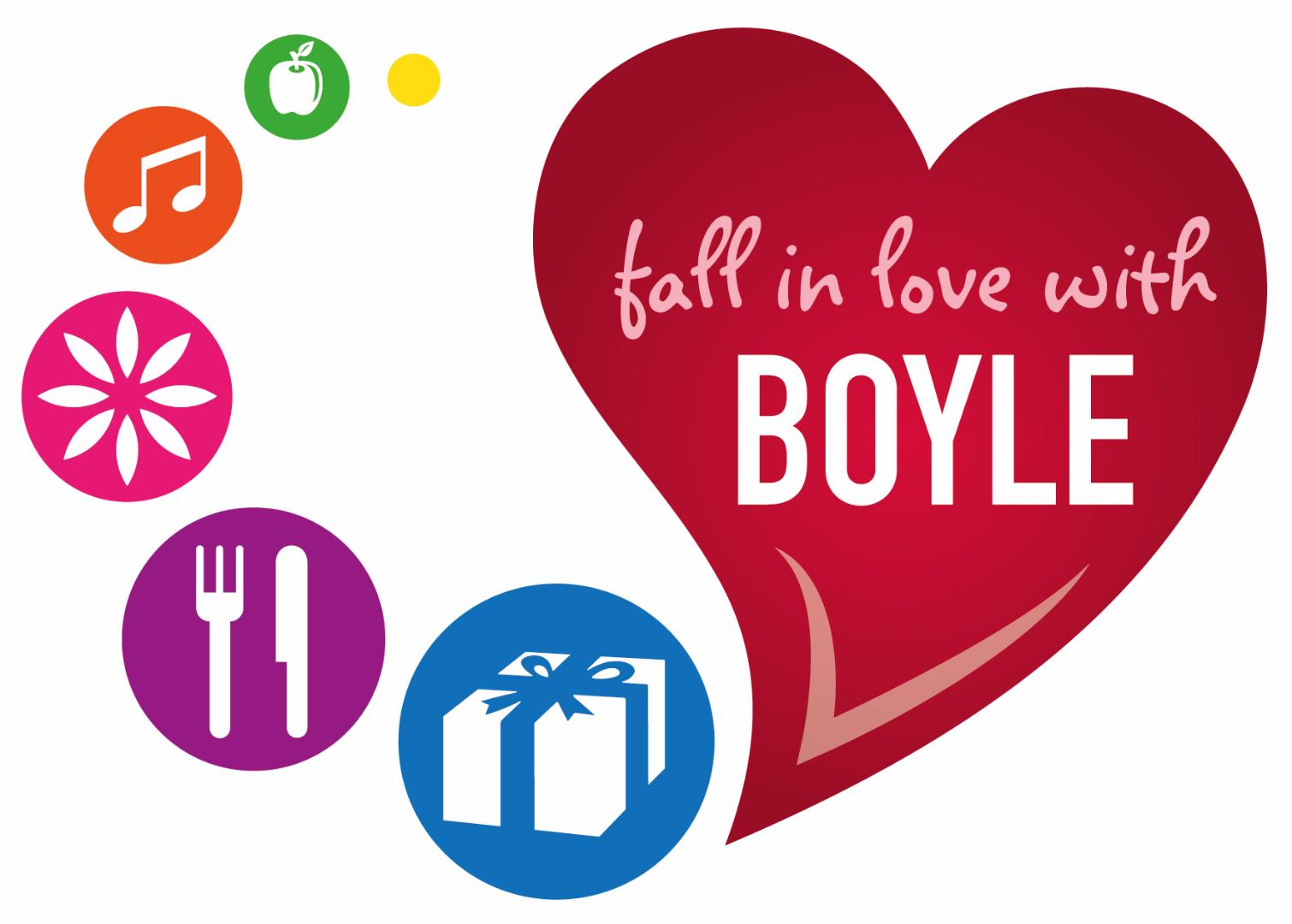 The inaugural Fall in Love with Boyle weekend is here.
There is so much happening in Boyle this weekend as the town's business people work together to create a Valentine's weekend to remember in the town of Boyle.
From live music to special Valentine's menus in Boyle's many restaurants, to a whole range of special offers in stores, Boyle will be the place to "feel the love" all weekend!
In addition, Boyle Town Team, coordinators of the weekend are offering a prize of a bottle of wine and inclusion in a feature on the Boyletoday.com website for the best dressed Valentine's window display this week. It would be great if as many people as possible could take part in helping the town get in the Valentine's mood this weekend.
Some of the venues participating include The Open Table, An Craoibhin, Bruno's and Clarke's Restaurants who are all offering a Valentine's menu over the weekend and are open for special lunch sittings on Sunday 14th. On Friday the 12th, Daly's Bar is running a Paella and Spanish wine night and the Drumanilra Farm Kitchen is holding a Valentine's Steak Night with a four course meal of locally sourced, organic ingredients to enjoy with friends. Wynne's and Daly's Bars have live music on Saturday night and the Patrick Well's Bar will have a DJ from 10pm. If a night-in is more your style, Padraic McGrath, Boyle Country Meats and the Lough Key Farm Shop butchers are all offering special meal deals for the weekend.
The town's famous Farmer's Market at King House, will have live music and be offering free tea and coffee and a free "grow a seed of love" seed packet to all visitors on the morning of Saturday 13th and there will be an organic brunch with papers and freshly ground coffee by the fire, on offer at the Drumanilra Farm Kitchen. The Curlieu Wheelers will be falling in love with Boyle's lovely hinterland with a cycle departing the Crescent at 9am on Sunday 14th.
Maruna's, Philippa's and Hair & More Hair salons and Enhance and Vanity beauty salons are pulling out the stops with a range of special offers on treatments, perfect as a gift or to prepare yourself for the big night out. Kellys Londis will hold a massive one day sale on Friday with unbelievable bargains in all departments. "And there is an impressive range of special offers on gift ideas from the town's retailers with 20% of Chanel and Clarins gift sets at Brogans, money off vouchers at Taylors' Interiors, free engraving at Taylor's Jewellery, special offers on electrical goods at Joe Simon, an in-house draw at Greenan Electrical and Adam's Apple, special offers on gifts at Surprises Giftware and on cards, wine and chocolates at Londis and Supervalu and online competitions at Pure Flowers, Unabhan Traditional Craft Shop, and the Thai Chi Court."
If you are looking for a new outfit for the weekend or as a gift for a loved one, the town's fashions stores have some great deals available with 20% off at Aidan Ray's Menswear, in-house draws at Marians Fashions and Boles of Boyle, free gifts at Logan Knotts Menswear and a "Fantastic Friday" event with lots of bargains to be found at McGee's fashions on the 12th. Even the town's printers are getting in on the act with a 10% off wedding stationery offer running at Printworks over the week!
"With small country towns like Boyle struggling to compete with larger urban areas, I think it's great to see business people working together to draw people into the town", says Brian Nerney, Chairman of the Boyle Town Team. "The Town Team are delighted to have been able to use funding from Roscommon County Council via the Boyle Town Team fund, to initiate and support the "Fall in Love with Boyle" initiative with posters, special offer leaflets and marketing of the weekend. We are hoping that local residents will consider shopping, eating and partying in town over Valentine's weekend and rediscover the many reasons to "fall in love with Boyle!" concluded Brian.