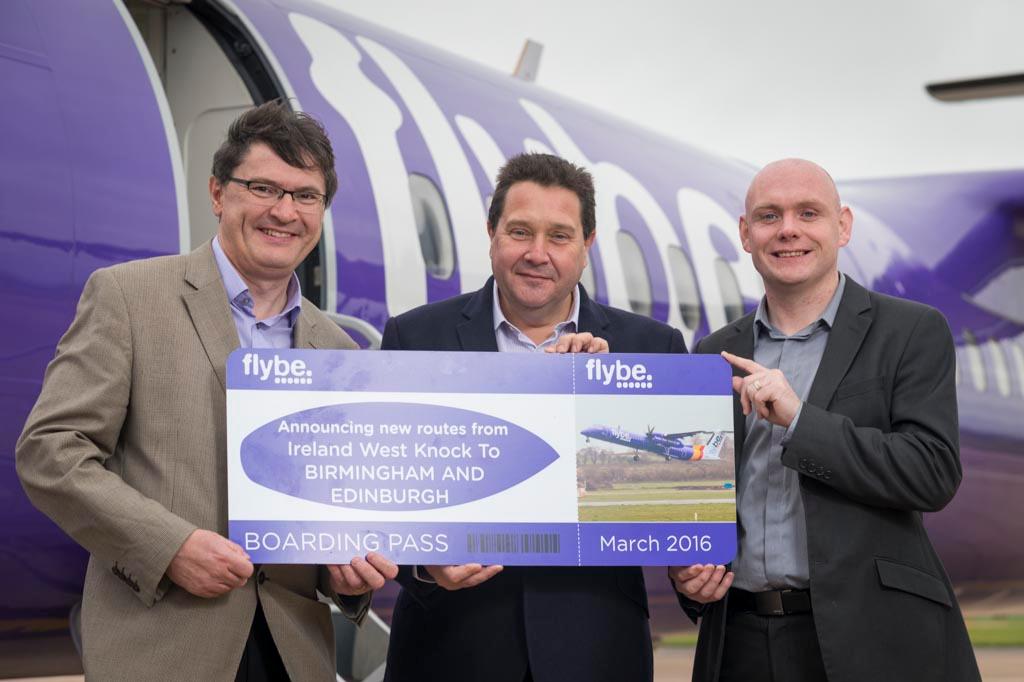 Flybe, Europe's largest regional airline today announced a major expansion from Ireland West Airport Knock by introducing two new year round services to Edinburgh and Birmingham. This announcement brings to nine the number of destinations served by the airport to the UK and Scotland – the biggest selection of services from the West and North West of Ireland. Flybe currently operate a Manchester service from Ireland West Airport Knock.
The Edinburgh service which will operate six times weekly starts on March 28th 2016 and provides a significant boost to flight access to and from the West of Ireland as the new service provides the only connectivity to and from Scotland from the West and North West of Ireland. Edinburgh is the second largest city in Scotland and the city attracts 1 million overseas visitors a year, making it the second most visited tourist destination in the United Kingdom, after London.
The route is expected to be popular with both leisure passengers looking for a short break and those travelling on business with both ends of the route benefiting from this new air link.
The Birmingham service, which will also operate six times weekly, commences  on March 28th 2016. The restoration of the Birmingham service will come as welcome news to the thousands of people who previously used the service as Birmingham has long been one of the most established destinations from the airport and the return of the service after a 12 month absence is a further boost for the airport and region.
In addition Flybe have also announced that they will add a further 5,000 seats on their popular Manchester service from the airport which is having a record year in 2015.
Speaking at today's announcement Paul Simmons, Flybe's Chief Commercial Officer said: "We greatly look forward to operating these two new routes from Birmingham and Edinburgh to serve Ireland West Airport from the end of March next year and to adding frequency to our popular Manchester hub. Flybe offers an unrivalled network of regional, neighbourhood airports with frequent schedules, fast reliable services and onward connections through our codeshare, interline and franchise partners. We look forward to welcoming all our new passengers on board and to flying many additional visitors to and from this beautiful part of Ireland."
Joe Gilmore, Managing Director, Ireland West Airport Knock, welcoming Flybe's expansion from the airport said: "We are delighted to welcome today's announcement from Flybe of two new year round services to Edinburgh and Birmingham and increased capacity on our Manchester service. Flybe, have been a customer of the airport for over five years now and continue to provide essential connectivity to key UK markets, and we thank them for showing confidence in our airport and region with today's announcement. These new routes will have a hugely positive impact on the region as a whole as we expect to welcome thousands of additional Scottish and English visitors to the West and North West next year as we seek to strengthen our position as the main international gateway for the Wild Atlantic Way. I'd also like to thank  Mayo County Council in particular for their recent commitment of co-operative marketing support for the new Flybe services, and the pending investment in the airport by them and the other 6 Local Authorities which was a key element in securing these new routes and is a tangible example of how local authority collaboration with the airport can deliver new business and tourism for the region."
Today's announcement will add an additional 75,000 seats at the airport next year providing a major tourism boost for the West and North West.
Mr Gilmore added "It's vitally important that people from across the West, North West and Midlands regions support these new routes, to ensure they are sustainable for the long term. Only with this support will the airport be able to continue to provide the current level of access and deliver new services to key markets in the UK, Europe and beyond."
Welcoming today's announcement, Minister of State at the Department of Transport, Tourism & Sport, Michael Ring TD said 'I'm delighted to welcome the announcement by Flybe today to introduce new year round services from Ireland West Airport Knock to Birmingham and Edinburgh.  I will work with the team in Tourism Ireland to ensure we do all we can to promote these new services in the UK and to help ensure these routes are a success for the West and North West regions and in particular to highlight the airport as the premier international gateway for the Wild Atlantic Way."
For further airport information log onto www.irelandwestairport.com; for information on fares and to book flights log onto www.flybe.com.
Picture 05 – Pictured celebrating the announcement of two new year round services to Birmingham and Edinburgh with Flybe from Ireland West Airport Knock were Joe Picture Gilmore, Managing Director, Ireland West Airport Knock, Paul Simmons, Chief Commercial Officer, Flybe and Donal Healy, Marketing Manager, Ireland West Airport Knock